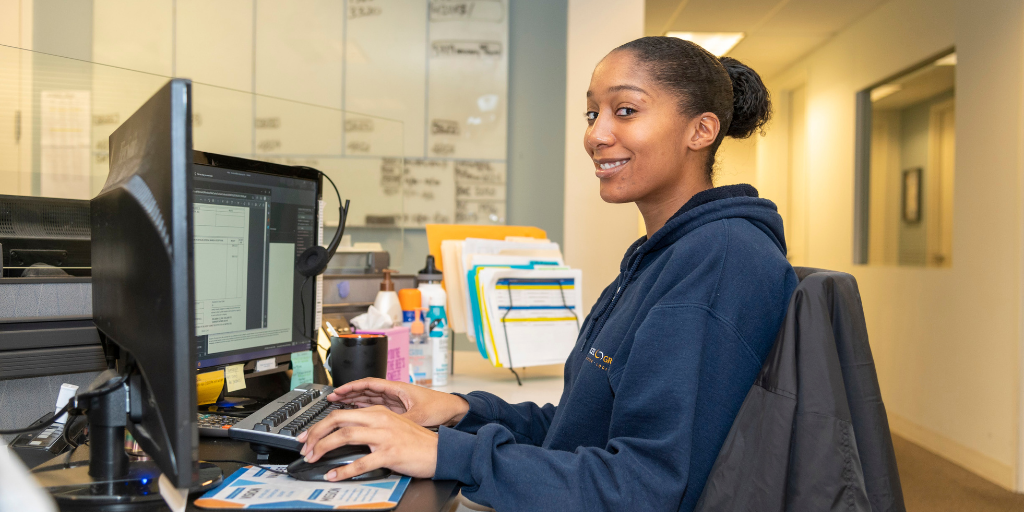 28 Feb
Explore Excel Courier's Operations Team: Building Trust As a Delivery Partner Through Communication
High-Level Communication, Customized Care

What gives you the confidence to use a delivery service partner? We've recently asked clients and vendors that question, and we discovered that "consistency in communication" was the overwhelming response, especially for dedicated delivery service partners.
At Excel Courier, proficient internal and external communication is our foundation for success. We apply our values of focused responsiveness within our people and technology to ensure deliveries are handled accurately and transparently. You're never in the dark about the status of your delivery.
Why is High-Performing Communication Important To Have In A Delivery Partner?
1. Transparency - staying informed about every step of the delivery's progress is critical. This can help to ensure that your and/or your client's material is delivered on time and in the condition expected. Transparent communication can help prevent any potential disputes or misunderstandings arising from delays or other issues. Regular, concise communication with your delivery partner helps ensure both parties understand what needs to be done.
2. Clarity - proper communication clarifies any details that may have been misunderstood during the ordering process, such as delivery address or special handling instructions. Verifying delivery information and asking clients to confirm specific details is essential to our process. The smallest missed detail can cause a delay or, worse, a misdelivery. We avoid this by being clear and concise in requests and instructions and addressing any concerns in a timely manner.
3. Reaction Time - Responsive and timely communication is important for problem-solving. If and when issues arise, your partner needs to respond with a solution proactively instead of reactively, allowing you to do the same. It's a good practice for companies to set standards and metrics for their delivery partner's response time to ensure this level of accountability occurs.
3. Trust - Reliable communication builds trust. Through consistent service, you'll feel confident to rely on your service provider to inform you promptly through the channels that fit your needs. Developing a strong relationship with your delivery partner furthers the goal of extending your service standards without micromanaging the process.
Clear communication and dialogue are important in building a trusted service with your delivery partner. Ultimately resulting in better quality service and achieving the goal of focusing on your other core responsibilities.
Dedicated Delivery Service
Communication

Let's quickly talk about what dedicated delivery service is and the levels of communication. This program is an integrated solution providing companies with a customized private fleet of vehicles, drivers, and an internal response team. It gives companies the authority to relinquish as much or as little control of their delivery department to fit their needs by tweaking the level of communication, service, and variety of vehicles.

Communication can be direct or indirect. Direct meaning that we're involved in every aspect of communication and management between the driver, our client, and their clients. We will also use our system to manage and dispatch the drivers. Other clients prefer indirect. They want to supervise the process and drivers and use their transportation management system. They want the authority to oversee their delivery department but don't want the noise of resourcing it from A to B.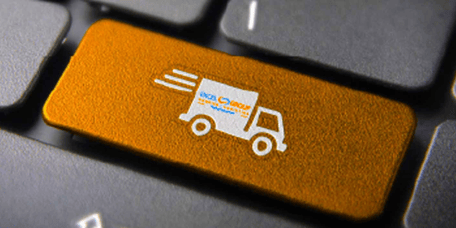 System integrations like EDI or API allow companies to continue operating seamlessly using their order management system. This helps avoid data duplication, overcommunication, inaccuracy, and potential errors.

Flexibility in service and communication eases the transition without compromising the value of service. It removes the hassle of resourcing internal personnel, buying advanced routing technology, or retaining drivers.
Get To Know The Team

We've highlighted drivers and vehicles many times when discussing Dedicated Delivery Services. They are critical aspects of the service, but there's another critical piece. You also get an entire delivery operations team. With a combined tenure of over 150 years, our 24/7/365 centralized operations team oversees deliveries from the inside and ensures communication standards are met daily.
Team communication at Excel is so important that the room layout is designed to have all these groups sitting in the same area. The goal is to achieve fast communication between them and provide our clients with immediate responses to their inquiries. Skilled communicators are the foundation of this team:
Client Account Managers
Excel Courier's Client Account Managers, like Daryn, pictured below, are personnel assigned to specific clients. They manage the relationship and are points of escalation to take appropriate action to address customer concerns.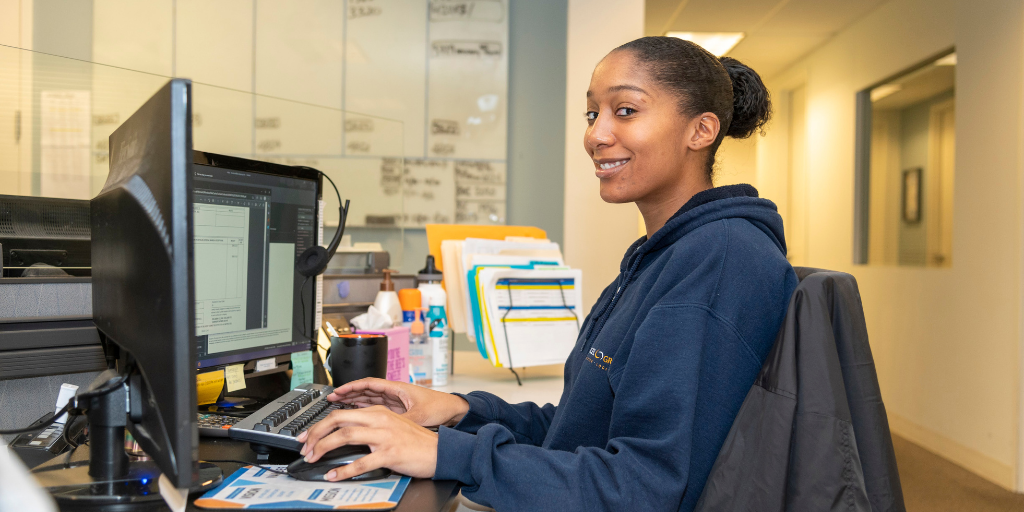 Our Client Services team provides the utmost flexibility in managing tailored scopes of work for our clients. On this team, our Client Account Managers possess expertise and knowledge on how to ensure all protocols are followed accurately, making sure that operations run smoothly and successfully.
Excel Courier's Client Services team doesn't just provide ordinary customer service - they are a problem-solving powerhouse, providing proactive communication and personalized support. As the go-to resolution experts on your side, they strive to deliver quality assurance with creative solutions tailored specifically to you!
We handle extremely critical material daily with detailed requirements such as temperature control, package labeling, and flight times. Our team takes preventative measures to ensure the data quality is correct. Client Services will dig for the answers they need to provide excellent service, keeping themselves and our clients accountable. If there is any information discrepancy, our Client Services team will immediately be on the phone to confirm any changes with the client before further movement. Our goal is to create a seamless and accurate delivery experience.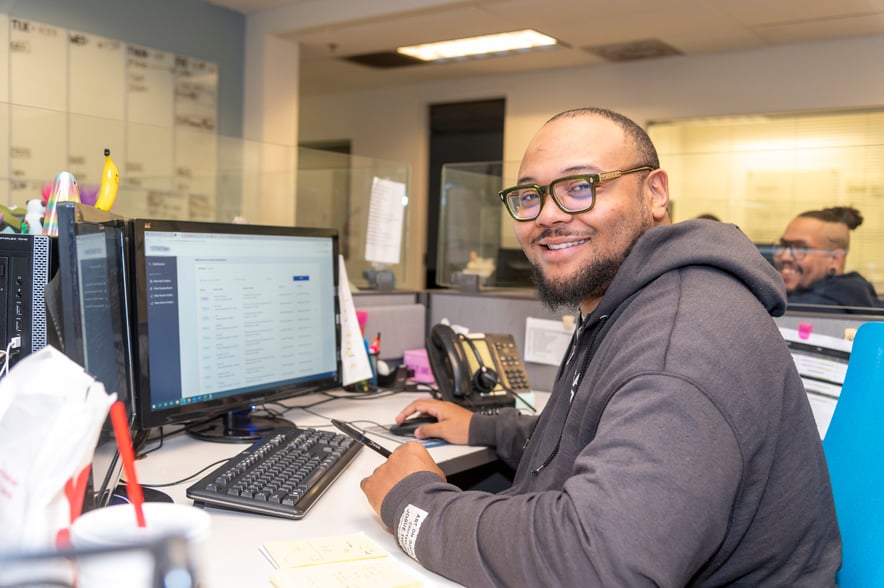 Operations Supervisor & Operation Manager
Excel Courier's Operations Supervisor oversees and maintains the external relationship and service standards for our clients and drivers assigned to Dedicated Delivery accounts. This role is responsible for establishing and monitoring performance goals and objectives, identifying areas for improvement, and making necessary changes to maintain a successful fleet. They step in wherever needed to ensure the Dedicated Delivery client receives quality service every single day.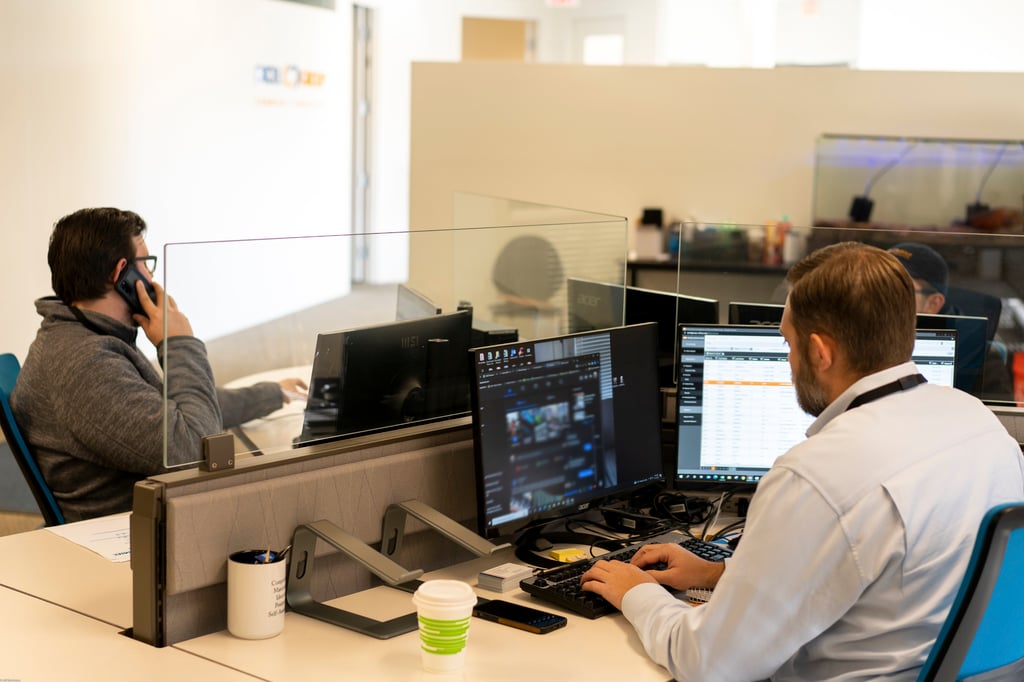 The Operations Manager's main responsibility is managing internal operations. They oversee our daily operations and ensure the internal support team runs smoothly and efficiently by managing and directing various staff, processes, and resources. They are also responsible for developing and implementing strategies and policies to achieve Excel Courier's mission of being a place where customers come for solutions, employees find purpose in their work and drivers will be successful.
Dispatch
Our dispatchers are the link that keeps our delivery system connected. They provide a vital line of communication between drivers and client services, allowing for real-time updates as deliveries progress. By tracking driver movement via GPS technology, they make sure every route is optimized to maximize timeliness in order to meet client's expectations - no matter what traffic conditions may arise!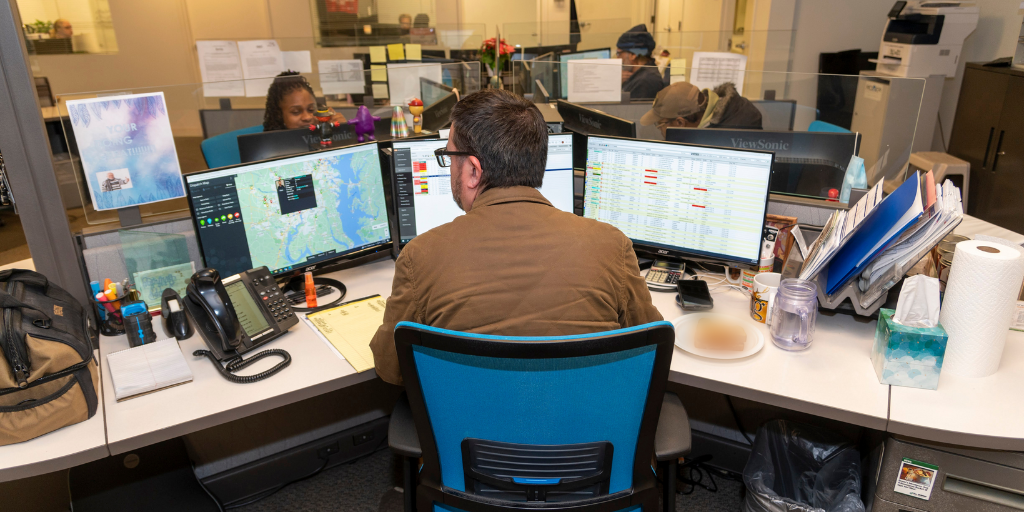 Dispatchers have daily check-ins with drivers on routes before their starting time to ensure they are ready for the day. This allows us to execute backup plans without any delays if needed. Our dispatchers manage a lot of moving parts (literally!).
Field Coordinators
Field Coordinators are Excel Courier representatives we can assign to be stationed at the dedicated client's location(s). They are the daily correspondents between drivers, the internal team, and their assigned clients. Their responsibility is to ensure deliveries run smoothly and on time, with the assistance of our Operations Supervisor. Field coordinators provide additional support and extra accountability when needed. The field coordinator is the jack of all trades. They are trained to be backup drivers, dispatch drivers directly from the client's location, and manage relationships. They provide extra assurance that an Excel Courier representative manages a process you can directly oversee.
Vendor Management
Vendor Management is synonymous with driver management. They manage our entire fleet of over 200 drivers. They monitor drivers' performance, ensure they follow safety regulations, update required documents, and support drivers however needed.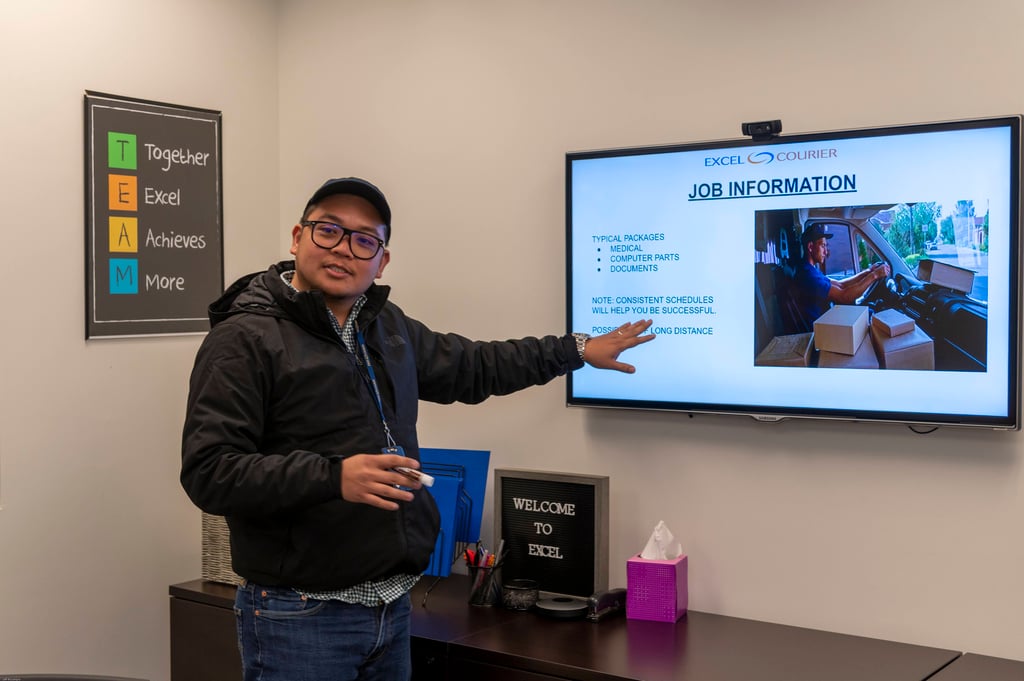 Vendor Managers coordinate driver training and development programs, evaluate driver performance and work to improve the customer's experience with our drivers. Additionally, they assist with scheduling, route planning, and the overall coordination of drivers.
How Excel Courier Functions For You

Proactive Communication - At Excel Courier, we understand the importance of trust and transparency in business. To that end, we take proactive measures to communicate with our customers throughout the delivery process - from providing updates on progress to addressing potential issues before they arise. This commitment reflects our dedication to high-level care for each customer's needs as well as ensuring prompt resolutions when needed. In this way, open dialogue helps build strong relationships between us and our clientele while also allowing room for growth through feedback loops at every step along their journey!
Customized, tailored service - We recognize that every business is unique, with varying demands. Therefore, our mission is to craft customized solutions for each of them in order to keep up the standards and ensure their satisfaction. We believe that precision matters when it comes to service delivery; so no one-size-fits-all approach here!

Regional focus - Excel Courier leverages a regional focus to stay ahead of the competition and meet our customers' ever-changing needs. Our thorough knowledge of local trends, traffic flows and industry insights gives us an edge in developing cost-effective, reliable services quickly - ensuring faster delivery times with no compromise on quality or service.

Company Culture - Our company is committed to fostering a culture that provides our clients with the highest quality of service, making them feel secure and at home. Our values emphasize customer satisfaction, accountability for our decisions and actions, consistent excellence in performance, and collaboration among all organizational members. Together we strive to create an atmosphere where everyone feels supported while working towards shared goals!
Creating a culture of collaboration and growth starts with our employees. We strive to provide resources that develop their interpersonal skills through educational programs, which in turn positively impacts the customer experience. By investing in our team members we create an environment where customers come for solutions, staff are empowered by purposeful work, and drivers have success at its core - making us one unified force behind achieving meaningful outcomes.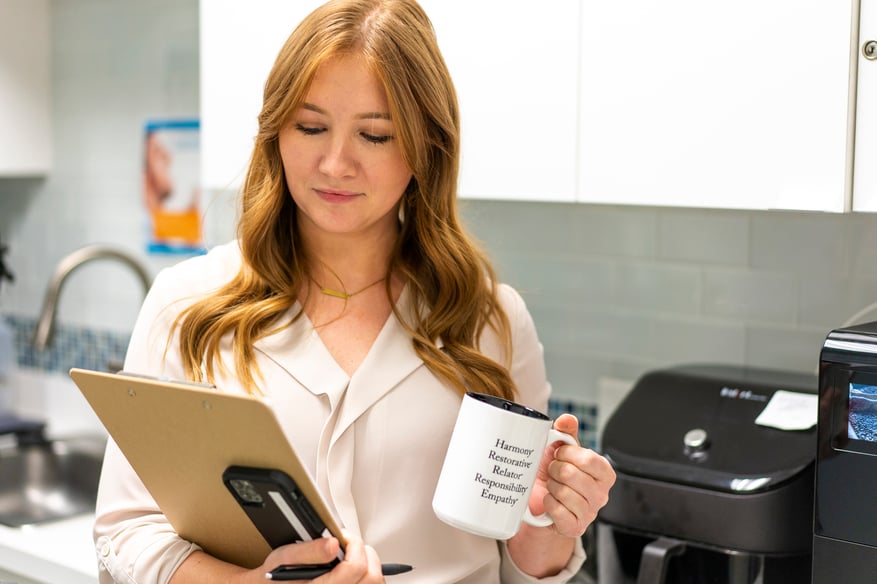 Vetted drivers
- Excel Courier takes driver vetting seriously, considering them the face of the business. Our rigorous process ensures drivers are well-equipped with both experience and
insurance coverage
to tackle their crucial role safely and efficiently - minimizing liability for our customers in any potential accident scenario. Investing time into a thorough vetting system is fundamental for running an effective delivery service that keeps everyone safe and secure.
Technology
- Excel Courier leverages a number of cutting-edge technologies to provide superior service and convenience for its customers. Our Transportation Management System allows customers to quickly and easily place orders and track packages in real-time, reducing the amount of time and effort spent dealing with tedious paperwork. With web and mobile applications, we make our services even more accessible for customers on the go. Customers can use their user-friendly online ordering, invoicing, and reporting tools to quickly get the documents they need with minimal effort. Our GPS-monitored drivers ensure that packages arrive at their destination with maximum efficiency and accuracy. Additionally, our system integration capabilities enable automated notifications, real-time order updates, and much more.
Outsourcing Doesn't Have To Be Scary
Outsourcing parts of your delivery department can be quite a difficult decision. While it could free up much-needed resources and help you stay focused on what truly matters for your business, there is also the valid concern that customer service may suffer without direct control.
Ensure your deliveries are always in good hands by partnering with Excel Courier. Our service provides you the support you need to confidently manage commitments and set high standards of customer satisfaction through tailored communication solutions, experienced personnel, plus an inclusive corporate culture that puts customers first! Find out more today - contact us now for details on our Dedicated Delivery Service.