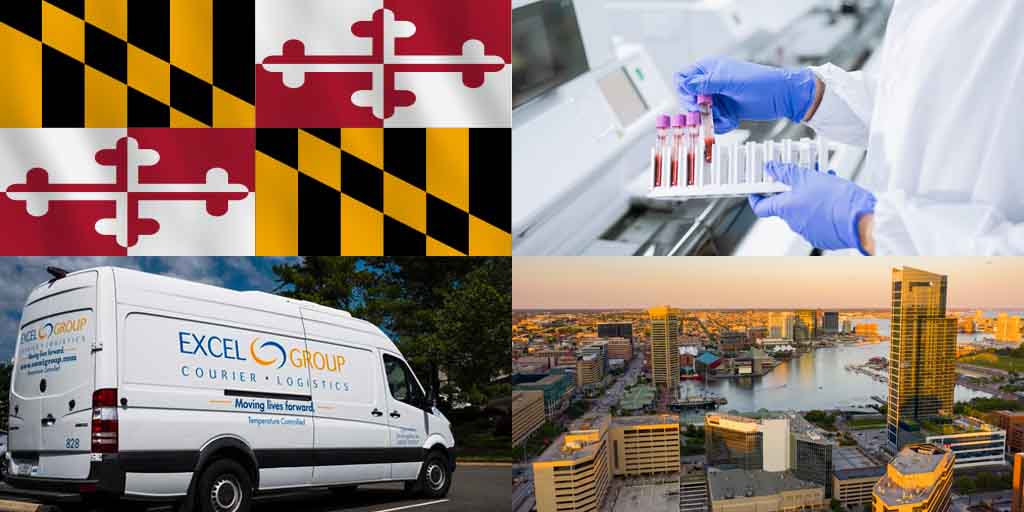 19 Apr
Maryland's Thriving Life Sciences Drive Medical Courier Service Demand
Posted at 11:00h
in
Healthcare Logistics
,
Courier Services
,
refrigerator truck
,
temperature controlled
,
Cold Storage
,
Medical Courier
,
Dedicated Delivery Service
,
last-mile delivery
,
Biomedical Courier
,
cold chain
,
All
by Casey
Maryland has become an anchor for the United States' Life Sciences industry, as companies seek centralized communities, robust technology, and a culture of innovation to help propel their businesses forward. The expansion of Life Sciences organizations in the Mid-Atlantic has spurred a growth in the demand for Medical Courier Services to support the critical sample, equipment, and supply deliveries that move lives forward.
Maryland Offers the Cutting Edge in Life Sciences Education, Growth, and Opportunity
The Life Sciences industry in Maryland continues to grow as investors, labs and other medical institutions favor the advantages of a Mid-Atlantic expansion. High concentrations of biotech and biohealth organizations are popping up in Maryland's I-270 BioTech corridor, with a whopping 1,800 life sciences companies and 70+ federal labs populating the Capital Region of Maryland, Virginia, and DC. Genetic Engineering News ranked the Capital Region as the 4th in Top Biopharma Clusters in the country.
The marriage between Maryland and Life Sciences is a mutually beneficial one. What Maryland offers in support and growth opportunities, Life Sciences returns in economic stimulus and diversity. The Life Sciences industry is comprised of pharmaceutical, medical device, biotechnology, and diagnostics companies looking to establish themselves in a bustling mecca of innovation. Life Sciences giants AstraZeneca and Johnson & Johnson have announced expansions in Maryland, with many others popping up across the state.
So, what is it about Maryland that makes it such a favorable destination?
Maryland has a strong education system supported by highly ranked universities, contributing to a highly skilled and well-educated talent pool. The skilled workforce is rounded off by a robust infrastructure that supports life sciences and other adjacent industries. In addition to this interconnected network, Maryland offers incentives and tax breaks to life sciences companies.
The mass migration of Life Sciences companies to Maryland has helped grow subindustries needed to serve and advance the life science industry. Among those is the widespread introduction of medical courier service companies to the Life Sciences corridor. This specialized courier service serves the exponential growth of the area's Life Sciences industry.
Medical Courier Services Breathe New Life into Maryland's Bustling Life Sciences Industry
More Life Sciences businesses are coming to town. The increased development in research facilities, laboratories, and biotech has accelerated the demand for supply chain support like medical courier services. Medical courier services are a critical link in the life sciences supply chain, as they facilitate the transportation and delivery of lab samples, medical equipment, and other supplies. Smooth supply chain operation makes it easier for companies to scale and operate more efficiently without sacrificing impact.
But the benefits of leveraging medical courier services extend far beyond convenience and scalability. High-quality services also offer:
Delivery Timeliness
Chain of Custody Compliance
Experienced Drivers with Specialized Training
Access to Regulated Facilities
Online Order Tracking
24/7 Availability and Customer Service
Medical couriers are vital to the health and success of Life Sciences companies. Medical courier services need to ensure that their vehicles, drivers, and procedures can accommodate the movement of biological samples and equipment without interfering with the integrity or condition of their freight. Transportation is critical for services such as:
Cell and gene therapy samples
Clinical and research trial samples
Pharmaceuticals
Nutritional therapies or medications
Transfusions
Autologous and allogenic therapies for cancer patients
Biological substances
Medical devices
Surgical equipment such as orthopedic instruments
The Importance of Medical Couriers in Clinical Trials
Clinical trials are often regarded as the backbone of the medical Life Sciences industry. Clinical trials are extensive research studies performed to evaluate medical, surgical, or other medicinal interventions. To properly execute a clinical trial, variables need to be tightly controlled. Data, samples, and associated biological materials must be treated with the utmost care and transported safely and quickly.
Medical courier services can help an organization ensure that all lab specimens and supplies arrive at the right place, at the right time. Maintaining the integrity of materials is essential to an accurate and successful trial. A specialized courier offers temperature-controlled shipments to keep biological materials and equipment at the ideal temperature, so external conditions don't degrade the quality of lab samples or machinery.
Just as continuity of care is a marker of high-quality health care, chain of custody is a crucial element of the Life Sciences supply chain. Medical courier services are responsible for creating, updating, and maintaining accurate documentation. This enables governing bodies and clients to assess the specimen chain of custody throughout the clinical trial. The chain of custody also plays a vital role in ensuring that all specimens and equipment are safely disposed of.
Medical couriers deliver the goods so clinical trials can drive results.
This specialized service allows Life Sciences organizations to focus on the clinical trial process, so participants and facilitators can focus on the task at hand: researching and discovering ways to treat, prevent or diagnose disease.
How to Find the Best Medical Courier Services for Your Organization
Not all medical courier services are created equal. If you're ready to start using medical courier services to increase the efficiency of your Life Sciences company, you need to know what to look for. Here are some key factors to consider when hiring a medical courier service:
Equipment:
Is their equipment designed to store medical specimens?
Can it accommodate overnight storage?
Compliance:
Operations:
Is the company insured?
How long has the courier been in business?
Can they provide reputable references from clients?
What is their policy on lost or damaged transport?
Can they accommodate specific needs such as delivery times or equipment requirements?
Excel Courier is Your Premier Mid-Atlantic Medical Courier Services Partner
It's hard to find a medical courier service that checks all the boxes, but Excel Courier Services is here for you. We are a proud member of Maryland's Life Sciences community and are committed to providing the highest quality medical courier services available.
We offer 24/7 customer service and support, plus online order tracking so you always know where your specimens are. We have a diverse fleet of specialized vehicles and equipment that allow us to offer clients temperature-controlled transport and storage. Our highly-trained and experienced drivers specialize in the safe and secure transport of medical equipment, specimens, and other biological material. We've been providing Virginia, Maryland, Washington, D.C., and the greater Mid-Atlantic states with premium courier services for more than 35 years. Excel Courier is here to meet your needs and get your goods delivered. If you're looking for an experienced, reliable Medical Courier Services provider that can accommodate your needs, please consider Excel Courier. Need service right away? Get started with a free quote request.
---
Related Services
Related Posts