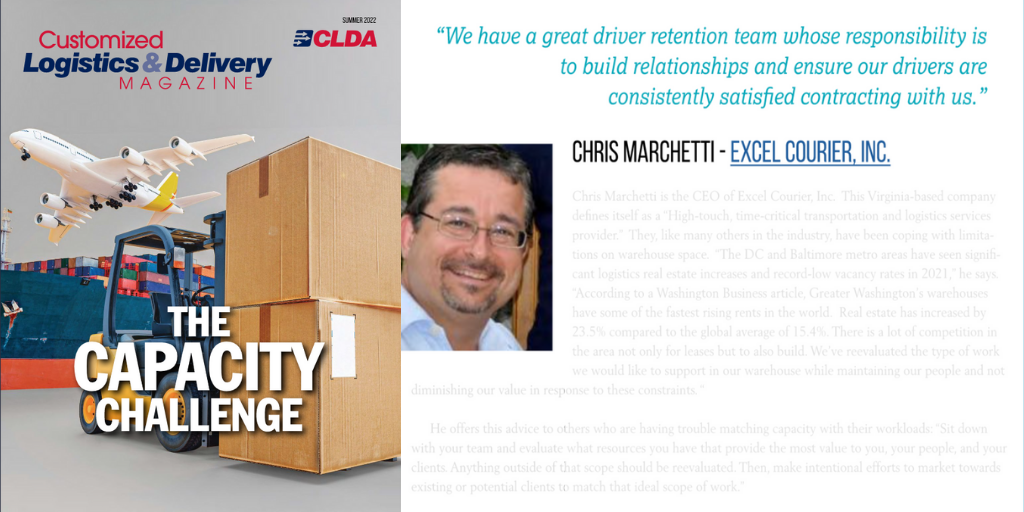 29 Jun
Excel Courier feat. in CLDA Magazine About Courier Industry Challenges
Chris Marchetti Talks About Capacity Challenges and Solutions in CLDA Magazine
Chris Marchetti, Excel Courier CEO, was recently featured in the Customized Logistics and Delivery Association (CLDA) summer magazine edition speaking about capacity challenges, crunch times, and creative solutions.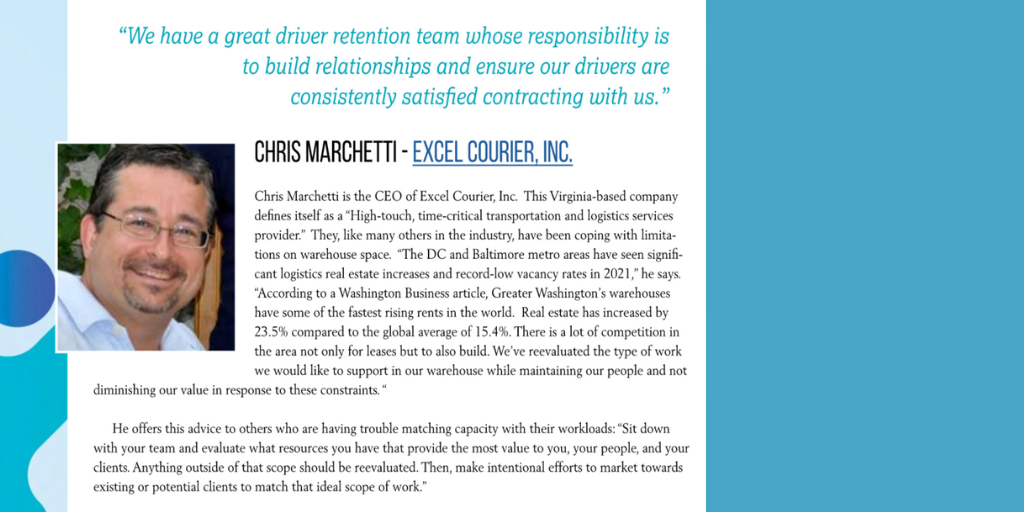 Bringing Value to Northern Virginia and Baltimore Warehouse Space
He discusses what resources we have had the most trouble getting as a courier and warehouse service industry. Then, he goes into detail about the limits the Northern Virginia and Baltimore region have been experiencing with warehouse capacity and, with it, rapidly rising costs. Finally, he adds what we've done to work around some of those challenges.
Chris provides advice to others who are tackling how to match capacity to their workload. He suggests reevaluating the value you bring to you and your clients. Honoring your value helps your internal resources focus on what you do best. They will exceed service standards to the existing client base while preserving and growing. It will also support new business opportunities you are better suited to help.
Driver Shortage Challenge and Solutions
Chris explains that driver retention ebb and flow has always existed in some capacity, mainly if your business model relies on independent contract drivers. So the driver shortage has always been something on our minds, even pre-Covid. You're constantly playing a game of having enough drivers to cover the work but finding enough work to protect the drivers.
When shortages are an issue, retention becomes the solution. Help your retention by building relationships with your drivers and going out of your way for your drivers. Do what's best to help them succeed.
Lastly, if you're dealing with tight resources, Chris recommends that honesty is the best policy. Being transparent with your client about your capabilities allows you to find the best solution for you both.
Check out the full feature on page 50 in the CLDA summer magazine to see what else Chris has to say about tight resources and overcoming those challenges.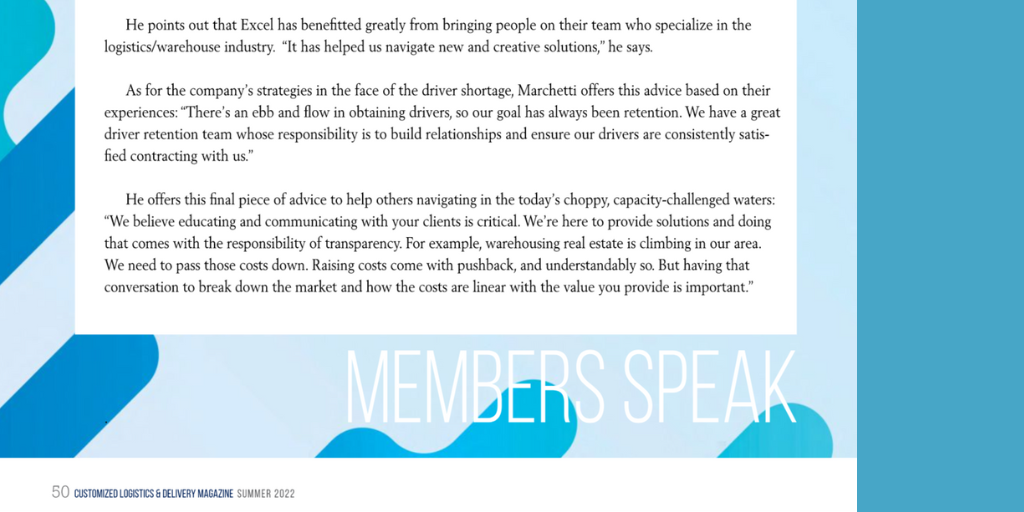 About Excel Courier
Excel Courier, Inc. is a high-touch time-critical transportation and logistics services provider. If you need anything from an envelope to a truckload delivered across town or anywhere in the Mid-Atlantic region, you can rely on us to get it done on time. We are known for our medical courier services and many local and regional healthcare facilities count on us for their courier needs. We have a Logistics division that handles all warehousing and inventory management services. No matter your size or your need - courier services or logistics services or 3PL - Excel Courier can be your trusted partner. Headquartered in Sterling, VA we provide courier and logistics services to the Washington, DC metropolitan area. We have additional locations in Baltimore, MD, Richmond, VA and Harrisburg, PA. Excel Courier is available 24 hours a day, 7 days a week and 365 days a year.
About the Customized Logistics and Delivery Association
The Customized Logistics and Delivery Association (CLDA) represents the first to final miles of the supply chain in the US and worldwide. This non-profit professional association serves the needs of its 2,900 essential service members who are logistics professionals, carriers, shippers, drivers, air cargo logistics providers, 3PLs and vendors servicing today's supply chain companies. The CLDA gives its members access to a diverse network of logistics professionals looking to create new business opportunities and share decades of practical insights. They provide an avenue for amplifying members' voices on key issues and helps them participate in the regulatory discussions shaping the industry. The CLDA keeps members informed and educated on trends, current issues and best practices. For more information see www.clda.org.